发布下Metal Vista 3.0为俺顺利毕业庆祝下,顺便为我即将工作而默哀下.....嘿嘿
感谢IceBlue-Fish热心帮助我测试:).老规矩:转载请注明下作者出处啥的.
This skin is based on Metal Vista2.0,so before you use 3.0,Please delete the old version.
Lots of changes and update on it.
Update:
+New Shellstlyes
+Two New stlyer's toolbars
+Per-Pixel Window Borders
+New Wait and shutdown Dialog
+New Start Panel and Taskbar
+New Button Glow
Enjoy it.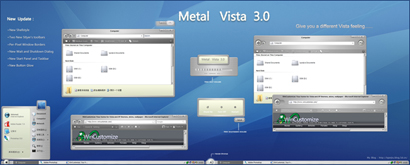 点击看大图:http://skins7.wincustomize.com/lypnjtu/wb/6228.jpg
Download from DA:http://www.deviantart.com/deviation/60206588/
Download from WC:http://www.wincustomize.com/skins.aspx?skinid=6228&libid=1
Download from my blog:http://blog.5d.cn/vip/lypnjtu/upload/2007-07/2007720223400.zip